Recovery Revolution Inc. of 109 Broadway in Bangor was awarded the prestigious Star of Excellence Award for Most Innovative Program at the 3rd Annual Recovery Training and Provider and Consumer Recognition Awards luncheon. In addition to the mahogany plaque from Magellan, Recovery Revolution was awarded a citation from the Pennsylvania State Senate Office by a representative from Senator Browne office in Allentown.
This event took place Tuesday April 6th, 2010 and was hosted by Magellan Behavioral Health of Pennsylvania. Program creator Jana Morris was present to receive the award. Competition for this award included many community-based providers from Lehigh and Northampton County.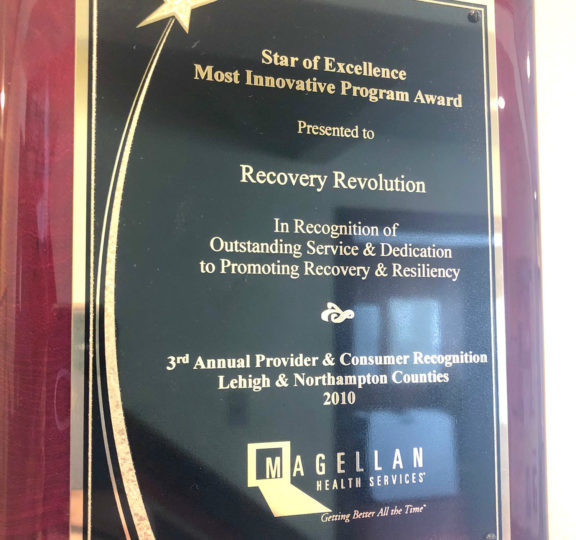 Recovery Revolution, Inc. was created in June 2005 and is licensed by the Pennsylvania Department of Health, through the Division of Drug and Alcohol Program Licensure. RR is licensed as a Drug-Free Outpatient Facility to provide both outpatient treatment and intensive outpatient treatment to adolescents and adults (adolescents and adults are treated separately). Services include individual and group counseling, gambling treatment, psychiatric evaluation and medication management, 1st offenders DUI program, Life Skills classes, Community based D &A education, an active alumni association, and parents, partners and loved one's program.