Recovery Revolution was nominated and has received the HealthChoices Provider of the Year Award from COMCARE! Recovery Revolution was picked out of all addictions and mental health treatment providers in 64 counties of Pennsylvania.
This prestigious award of a glass figurine and large poster about our program was given at an awards ceremony held as part of our delegates meeting on November 22, 2011 at the Hershey Hotel in Hershey, PA. Jana Morris, Executive Director and Diann Eden, Office Manager attended the awards ceremony.
The nomination read: Recovery Revolution is a premier outpatient addictions treatment program for the Pennsylvania Slate Belt and the surrounding areas. Recognizing a need for affordable addictions treatment, Executive Director, Jana Harrison, founded the program in 2005. Creating programs that respond to the needs of the community, Recovery Revolution began with a staff of two and one treatment service. Today their staff has grown along with a full treatment program of ten services. Working with Northampton County, Recovery Revolution is set apart from other outpatient providers. They are involved in community events on a year-round basis, and receives significant community support and patronage due to their positive impact.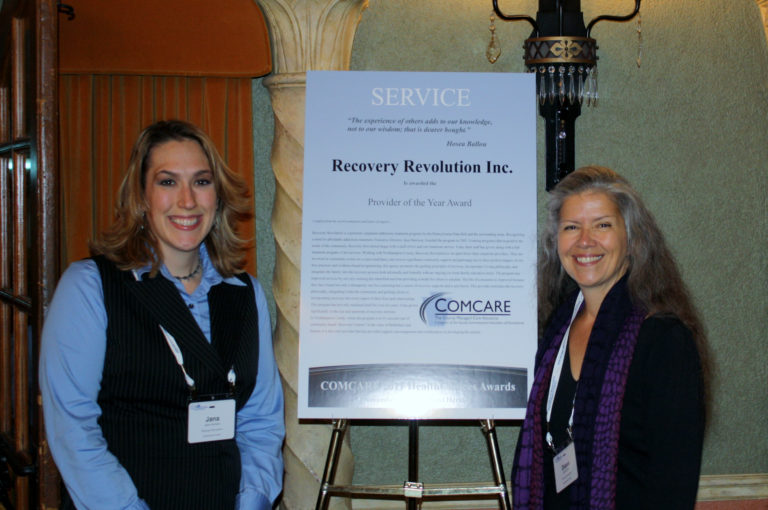 As for best practices and evidence-based programming, this agency promotes the guiding principles of recovery, incorporates 12-step philosophy and integrates the family into the recovery process both informally and formally with an ongoing six week family education series. The program has improved services by not only meeting this identified need but providing a model for others to emulate. The life of consumers is improved because they have found not only a therapeutic site for counseling but a source of recovery supports and a safe haven. This provider embodies the recovery philosophy, integrating it into the community and guiding clients to incorporating recovery into every aspect of their lives and relationships. This program has not only sustained itself for over six years, it has grown significantly in the size and spectrum of recovery services.
Recovery Revolution would like to thank all of our wonderful supporters in our community. We would like to give a special thanks to Mary Carr, Northampton County Drug and Alcohol Administrator, for her ongoing dedication to assisting with the Recovery Oriented Systems of Care and addictions treatment.