On April 15, 2019, Jana Morris (Executive Director/Founder of Recovery Revolution) won the Pennsylvania Certification Board "2019 Professional of the Year." This award is given to one certified professional every year in the State of PA and is based on submitted nominations which are then voted on by the Board of Directors at the PCB.
In the award letter, Ms. Morris was informed that her selection by the Board was unanimous. Ms. Morris holds two certifications through PCB: Certified Clinical Supervisor and Certified Advanced Alcohol and Drug Counselor. In the words of Patti Baranowski, one of the counselor's at Recovery Revolution, "(Jana Morris) single-handedly demonstrates leadership, advocates for individuals, and incorporates community solutions. Jana has also made huge strides to change the stigma that surrounds substance abuse disorders and works with the local police in an attempt to bring individuals into treatment instead of incarceration."
Here is an excerpt from Ms. Morris's speech at the event. To view the entire speech, click here.
We have to think of ourselves as "Hope Ambassadors" rather than agents of change. The power to change lies within the individual if they choose to do the work. We are inviters into a life giving process and not controllers of outcomes. We need to set aside our ego and realize that we are seed planters, not the cultivators of growth. For some people change comes slowly. As a seed planter, you must realize that no matter how much light and nourishment you provide, sometimes your client won't flourish until they are ready. Have faith that you have an impact, even if it is not apparent. I want to leave you with these words: Be tenacious, advocate for your clients, be ethical, have compassion with boundaries and surround yourself with people who build you up.
In 2005 Jana Morris, set out on a life-changing path and started Recovery Revolution in Bangor, PA. Recovery Revolution is a charitable licensed not for profit 501(c) 3 dedicated to providing addictions treatment in the Slate Belt Community. Ms. Morris and the staff at Recovery Revolution believe in a client-focused approach and have built programs responsive to the needs of the community. Recovery Revolution's vision was to create a safe and loving environment, where decisions were based on the need of the client rather than the depth of their pockets. Recovery Revolution started out with a staff of 2 that provided 2 services and now there are 12 employees and we provide 17 different services.
Recovery Revolution strives to constantly provide innovative programming for clients that struggle with addiction issues and their families. Recovery Revolution has been providing a parents and partners program since 2008. This program sheds insight into the disease of addiction, codependent and enabling behavior. The goal is to work with families to find peace and health in their own lives, rather than focusing solely on their struggling family member. Recovery Revolution also works collaboratively with Bloom Bangor, a restorative program for women leaving lives of addiction, violence, and trauma. Bloom is a sister program to Thistle Farms in Nashville TN. Recovery Revolution provides therapy to the residents as well as a variety of programs and assistance based on their changing needs. Another barrier, that Recovery Revolution began addressing in 2006 was partnering with schools in Northampton County to provide adolescents with therapy directly during the school day. This addressed the need for students to have to find transportation and provides a comprehensive approach working as a team with school staff.
Since its inception Recovery Revolution has been recognized for its contributions towards the community beginning in 2008 when Ms. Morris was recognized by the Guardian Angels with the Archangel award for her work in the Slate Belt Community. In 2011, Ms. Morris received the "Wilson United: A Call to Action" Award for Outstanding Contribution to alcohol and substance abuse prevention in the community of Wilson, PA. In 2010, Recovery Revolution was recognized by Magellan Behavioral Health for having the "Most Innovative Program." In 2011 Recovery Revolution received the HealthChoices Provider of the Year Award from COMCARE. Recovery Revolution was picked out of all addictions and mental health treatment providers in 64 counties of Pennsylvania.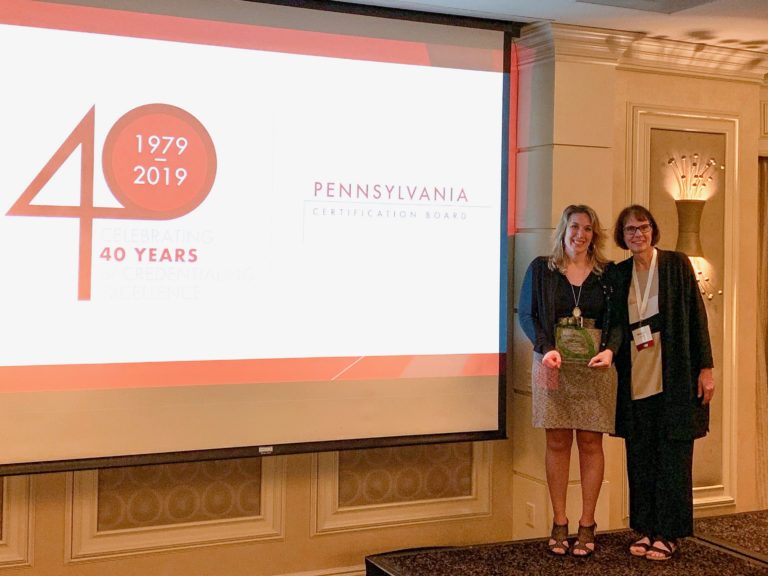 Ms. Morris is also a community leader in other ways. She is active with the Historic Bangor Business Association, Bangor Economic Development Committee and Youth Engagement on Slate Belt Rising. In these roles Ms. Morris has worked to attract business to Downtown Bangor, and has also participated in the planning and execution of the Downtown Block Party. Ms. Morris is also the Committee Chair for the newly re-chartered Cub Scout Pack 102, which serves children in the Downtown area. Another passion of Ms. Morris is combatting human sex trafficking. She has worked with Thistle Farms in Nashville, TN. In fact, Ms. Morris spent her honeymoon with her husband installing a floor as their 'honeymoon service project." Another organization that Ms. Morris is passionate about is VAST- Valley Against Sex Trafficking. She learned about the organization thru their community meetings. Over the past 8 years, Ms. Morris has attended trainings, events, awareness days. In addition, she worked with federal investigators and provided a training in 2018 regarding the correlation between Addiction and Sex trafficking. Ms. Morris will be recognized at their annual fundraiser on May 16th, 2019 with their "Freedom Fighter" Award for her contribution and efforts towards awareness and outreach in VAST's mission and the larger movement to end human trafficking